Git-R-Done Grub Biscuits and Gravy
When thinking of southern comfort food breakfasts, nothing stands out more than classic biscuits and gravy. Soft, doughy biscuits smothered in a peppery pork sausage gravy. Many great mornings are started with these on the plate.
At some point, someone decided it would be a great idea to package this deliciousness into a frozen, microwaveable meal, and slap blue collar redneck comedian Larry the Cable Guy on the box. The Git-R-Done Grub Biscuits and Sausage Gravy is one of a large line of Larry the Cable Guy licensed foods from North Dakota based Bektrom Foods. I was fortunate enough to have found this at my local dollar store.
As per the instructions on the packaging, I microwaved the biscuits for 3 minutes with the corner of the lid up. After 3 minutes, the instructions advised to spoon the gravy over the biscuits and then microwave for another minute and a half. Spooning the gravy over the biscuits, I found it had a very lumpy consistency and looked like poorly mixed paper mache paste. Despite it's white/grey consistency, it also looked to have a translucent liquid layer encasing the globs of gravy.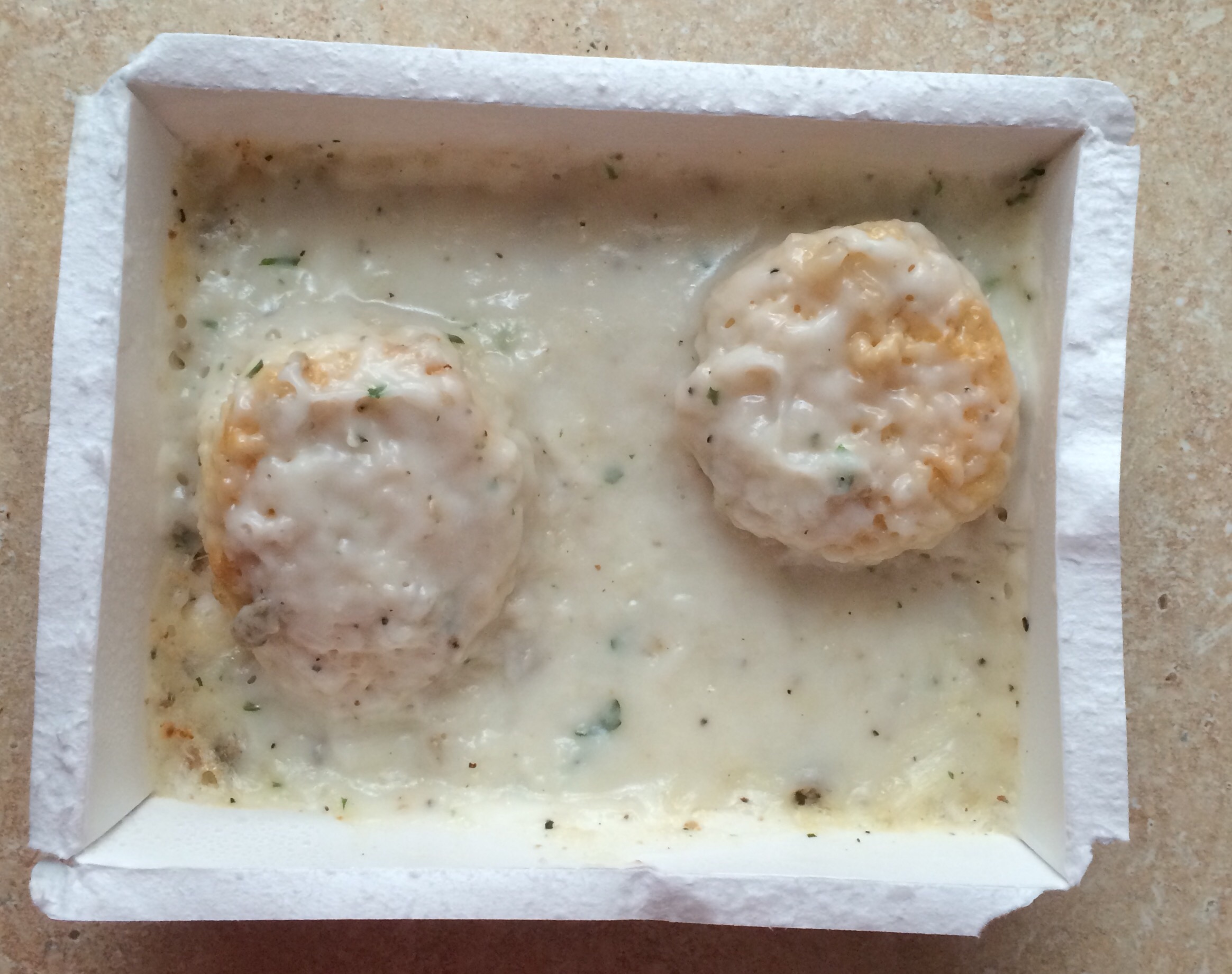 Upon plating the biscuits and gravy, I found that the extra one and a half minutes of heating did nothing to change the consistency. Cutting through the biscuits revealed a tough-as-hocky-puck exterior and an interior denser than osmium.
The biscuits had a chewy mouthfeel. Every consecutive chew required more effort than the first. If it weren't for the gravy, I don't believe there would be any flavor to this dish. That is not to say the gravy was palatable. Returning back to the similarity of paper mache paste, I'm certain the gravy tastes exactly like what you would imagine paper mache paste to taste like if it were made with the salty tears of whoever green lit the 2006 box office hit Larry the Cable Guy: Health Inspector.
Among the swamp of gravy, I was able to find a small chunk of pork. Any decent pork gravy will have small chunks like this. The pork contained within this gravy however, tasted as if it did not contain the necessary preservatives to keep it from spoiling.
The news however is not all bad. A portion of all Git-R-Done Grub profits goes to the Git-R-Done Foundation. This foundation, started by Larry and his wife, and largely funded by them as well, supports a myriad of causes including research and support for children with Hip Dysplasia.
Summary
While the Git-R-Done Grub biscuits and sausage gravy fall flat in execution, they slightly made up for in taste. That isn't to say they tasted great, but I can say I've had far worse.
If your intent is to buy these as a way to support the Git-R-Done foundation, you can save yourself the indigestion and donate directly on their website!