SPAM was introduced by Hormel in 1937, and gained world wide popularity during World War II due to it's long shelf life making it easy for the military to purchase in large quantities and ship out to soldiers. Pacific island nations and territories are among the biggest consumers of SPAM with Hawaii having a greater per capita consumption than all of mainland US.
Hormel has taken SPAM to the next level of convenience by packaging it into a dried bite sized snack food.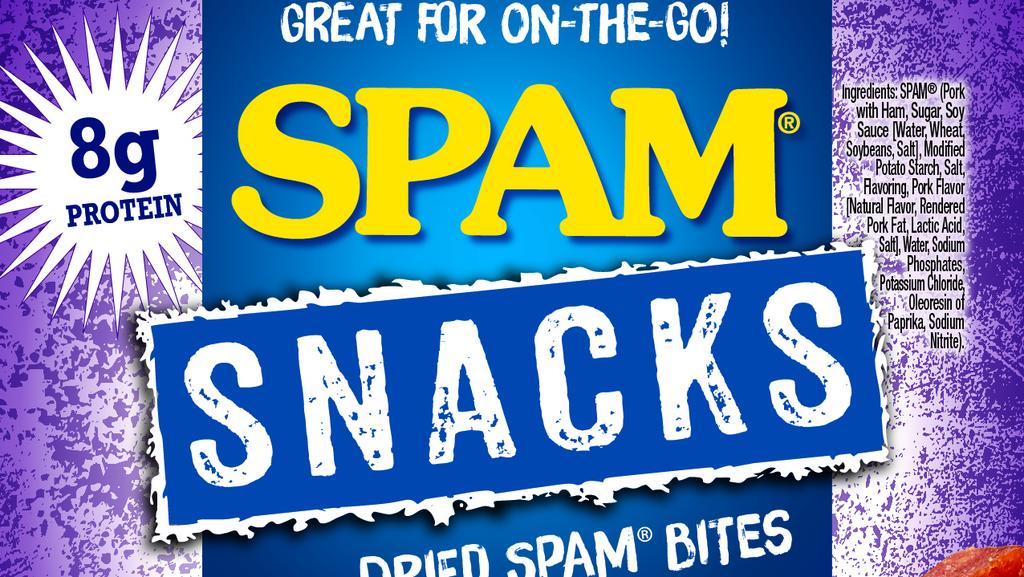 The packaging for SPAM bites is exciting. It reminds one of many popular bite size snack foods you can find at your local convenience store or gas station. Those popular snack foods however, don't smell like moldy gold fish food.
Despite being dried, SPAM bites are incredibly greasy. Pulling a bite out of the bag left my fingers coated with the same greasy consistency they had when I picked up a slug in my back yard 3 nights ago. Each small nugget looked like tiny flesh chunks. I prayed I was not about to partake in something that would have sustained the Donner Party as they crossed the Sierras in 1846.
The SPAM bites have a mouthfeel of a gummy bear made with old gyro meat. The taste is like a saltier SPAM from a can that that been left partially open, shipped over seas, and returned back to the factory due to the partially opened packaging.  I could not imagine something more putrid. The overwhelming combination of flavor and greasiness stayed with me long after I swallowed the one SPAM bite.
Summary
SPAM bites are what they are. If you're not a fan of SPAM already, you definitely won't like them. If you're a fan of SPAM, you also probably won't like them.
Instead, stick the canned stuff. It may still taste like garbage pit bbq meat, but some how people manage to make it palatable enough to pair with rice, eggs, or on a sandwich. SPAM Snacks are just not redeemable.